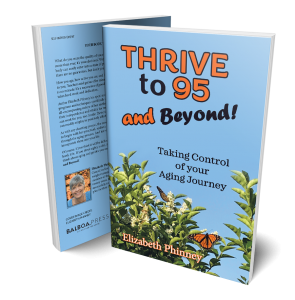 Author Elizabeth Phinney has spent more than twenty years studying, creating, and implementing programs and techniques specifically designed to help offset what aging does to the body. The all-encompassing nature of her methodology has helped her clients, aged 45 to 95, maintain their independence and vitality for more years than they thought possible. That methodology can work for you, too. Inside Thrive to 95 and Beyond are hundreds of pragmatic tips and techniques you can readily employ to positively affect how you age.
As with any daunting project, the most difficult step is the first one. Phinney shows you where to begin with her practical, realistic approach to give your body what it needs to flourish through the aging process. And her suggestions offer a unique twist that spur you to actively incorporate them into your life.
Of course, if you think it will be difficult to change your diet, it will be. If you think exercise is hard, it is. If you think eighty is old, it most definitely is old. This book changes the way you think about aging and guides you on your aging journey so that you, too, can Thrive to 95 and Beyond!